Andes Cowl

Debbie Bliss Andes is a luxurious, single ply blend of alpaca and silk. The silk adds a gorgeous sheen to this incredibly soft yarn. Andes is perfect for stitch patterns. 65% Baby Alpaca 35% Mulberry Silk. 100m / 50g US 6.


Angel Print Ruffle Scarf

The kit for the Angel Print Ruffle Scarf includes Debbie Bliss Angel yarn and SWTC String Me Along. Choose from Blue or rust(model). Pattern included with Kit.


Beastly Eyelet Cowl

Beastly Eyelet Cowl kit contains 1 ball of Anzula hand-dyed yarn Beastly and pattern. Beastly is 80% Yak and 20% Merino


Blue Sky Silk Alpaca Ruffle Scarf

A perfectly polished sheen and elegant drape make this shimmering blend of all-natural sport weight silk and alpaca the ultimate choice for sophisticated scarves and sweaters.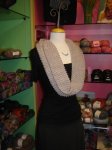 Cocoon Cowl

Blue Sky Worsted Hand Dyes 50% royal alpaca/50% merino A superior blend of royal alpaca and fine merino wool creates an extra special worsted weight yarn. Soft and silky with a rounded shape that makes for excellent stitch definition, it's the perfect


Floating Ruffles

Kit is made up of Shibui Heichi, Araucania Yarns, Rozetti Cotton Gold and 2 skeins of Anchor Floss. Aqua = Fountain Line = Lichen


Gala Organic Cotton Cocoon -

Incredibly soft cotton in a worsted weight. The candy shop of color tempts with an array of sweet treats ranging from rich and creamy neutrals to scrumptious saturated hues. The palette is created with low impact dyes, and a funky twist gives our 100% cer


Glittery Lace Infinity

60% Kid Mohair, 15 % Wool - 25% Silk - Made in Sweden 1 ball Swedish yarn Silk Mohair Glitter - 308 yds, Size 9 Needle - 28'' - 32'' Circular needles.


Ice and Steel Cowl

Katia Irina - 50 % Viscose - 32 % Cotton - 18 % Acrylic - 104 yds. Kid Melange - Lace Blend: 65% Mohair 5% Wool 30% Nylon - 273 uds. LB Collection - Wool Stainless Steel -Part of our collection of affordable, luxury fibers, this unique Wool Stainl


Ladder Scarf

Simple dropped stitch creates a wonderf'ul effect any combination of yarns to dress up a suit jacket, a simple turtleneck, a tee top, a winter coat... Quick and easy pattern Ladder Scarf kit contains pattern, approx 85 yards of blended yarn and hand-d


Louise Harding Sari Ribbon Scarf

Louis Harding Sari Silk Ribbon - Yarn content: 90% polyamide/10% metallic Hand wash Dry flat


Love Wool Cowl

Love Wool by Katia - 85% Virgin Wool and 15% Alpaca (100% Natural)


Mosaic Wrap - Black or Grey

Materials used are M & K Wedding and Grignasco Knits. Color in each scarf is Black or Grey.


Octopus Scarf

Noro specializes in beautiful color blended yarns. They are world renowned for multi-colored amazing yarns. Each ball or hank off Noro Yarn is individulaly dyed to produce a unique palette of subtle shadings and vivid hues. Enjoy. 3 Balls of Noro Silk


Silk Alpaca Babushka

This pattern is Classic Mac & Me, seed stitch form a Beautiful piece of fabric in an elegant size, and the added ruffles just enhance the drape. Kit includes pattern and 5 skiens of Blue Sky Alpaca Silk in Red, Plum and Teal.


Silky Alpaca Lace Cowl

Silky Alpaca Lace is a beautiful blend of fibers, spun into a gossamer yarn that knits into amazing lightweight pieces. The alpaca in this yarn provides warmth and a soft halo, the silk adds a subtle sheen to the knitted stitches.


Tricolor Infinity Scarf

Plymouth Alpaca Grande Tweed and Sherperd Worsted


Yin and Yang Sequins Swirl Scarf

Yang is the soulmate to Yin. These 2 great yarns were designed to work together. Each Yin has a matching Yang. Yang has a wonderful petit sequins that wraps around the luscious yarn making is the perfect yarn to create a dazzling garment.